Shrimp and "Grits" Recipe…
Comfort in a Bowl
You can still see all past stories on my portfolio where I store clips.
https://eatgordaeat.blogspot.com/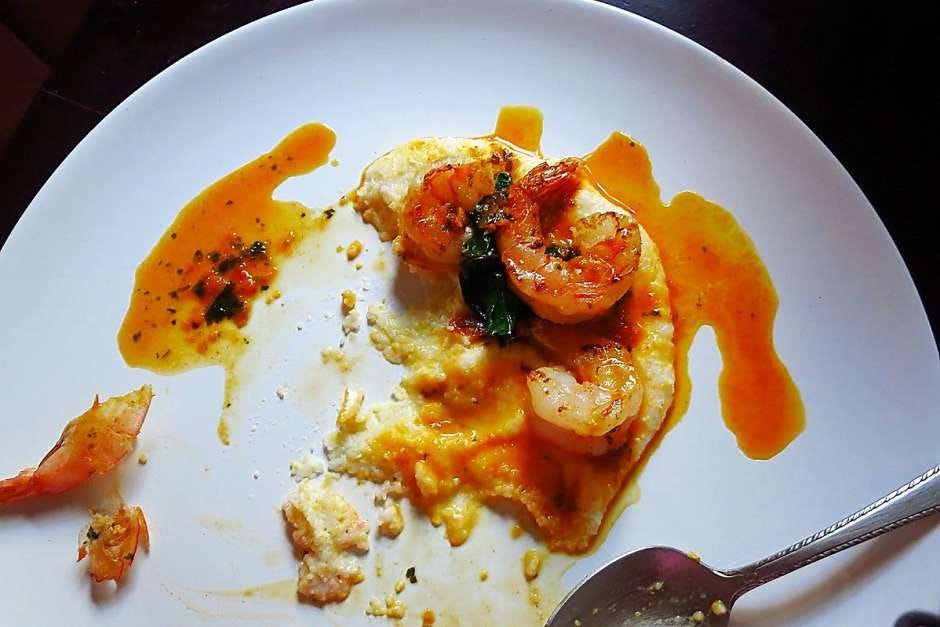 From Cocina Boricua column, original date: Sep. 7, 2017
While her 1976 Buick Regal "warmed up" in the long driveway of our wooden casita, my mom would stand at our Wedgewood stove. The stove had a griddle in its center especially for pancakes, but on most days, my mom would stand there and stir a corn mixture in her Corningware, keeping one eye on the pot and one eye on the rumbling car. I got dressed in front of the wall heater, and the vapor pouring out of the tailpipe seemed to mingle with the steam from the stove until mami spooned the mixture into a bowl, wrapped with a kitchen towel, and set the both of us in the backseat of the Regal. That's how I remember funche.
I'd eat spoonful after spoonful while staring out the still-foggy windows. The warm smell of cinnamon mixed in with the used-books smell of the Regal's plush interior. A trail of brown sugar, evaporated milk and specks of cinnamon waiting to be thoroughly combined with the softened cornmeal. My mother, and my grandmother, often made this for us on cold mornings, before the eventual destination of school or nina's house.
There are no grits in Puerto Rico. Not even as an import item. But cornmeal has been utilized by the inhabitants of the island since long before the conquistadors' baby blues sparkled on the horizon. Just as grits are mostly eaten for breakfast down in America's South, funche is mostly eaten for breakfast by the older generations in Puerto Rico.
Funche still reminds me of our little one-bedroom casita, made of wood and long demolished. It was just one of the many soupy concoctions made from grains that I grew up on. There was also avena (oatmeal) and Cream of Wheat. (Cream of Wheat is still the only thing my mother will eat most mornings, other than coffee and crackers.) Crema de Maiz is the American food industry's marketing name for funche; the only difference is the consistency. To make our lives easier, let's just say funche is the Puerto Rican polenta: cornmeal cooked with water, milk or coconut milk.
If you were watching, I made my Puerto Rican shrimp and grits on IG LIVE. Shrimp, Mexican chorizo, fresh orange juice, lemon, seasonings, some other shit I can't remember and funche made with coconut milk. Funche is Puerto Rican polenta. When I talk about combining California influence in my Puerto Rican cooking, this dish is the epitome of that manifesto! Historical Puerto Rican recipe combined with local ingredients and ingredients from the Mexican culture, who Puerto Ricans on the west coast live parallel lives with. See you next Saturday at 12PM west coast time. Don't forget to Venmo me a few bucks
@illya
-maiso .
.
.
#cocinaboricua
#puertorican
#puertorico
#puertoricanfood
#foodies
#foodie
#instafood
#puertoricanwriters
#writers
#nomnom
For us, funche was affordable, hot, filling and easy on the stomach. Turns out, this is exactly why Puerto Rican sugar-cane plantation owners doled out funche to their slaves, generations ago.
The relationship between Puerto Rico and corn goes back even further. Despite what many mainland Americans assume is a love affair between Puerto Ricans and rice, corn was the staple that was essential to the indigenous Tainos who inhabited the island of Borinquen long before Europeans landed on the island. They planted and harvested corn in fertile lands and were even documented as preparing corn dumplings — forming and shaping dough, wrapping it in husks and boiling (or roasting) it on an outdoor stove.
The Spanish watched the Tainos prepare corn in various ways and copied their techniques in creating a nutrient-dense porridge that would sustain them on their ambushes of other Caribbean islands. And in the 19th century, the sugar plantation slaves were given funche; this is when the word, likely derived from the language of the African slaves, came into use. The porridge was paired with bacalao (salted cod) or melao de cana, a sugar cane syrup, reduced down until thick and dark brown.
These eating habits continued through the poorer populations of Puerto Rico into the 20th century, when Puerto Ricans substituted funche for rice to be eaten with beans during extremely tough times. During the New Deal, processed cornmeal came in the monthly food subsidies of the Puerto Rican Emergency Relief Administration, along with things like Spam and powdered eggs. Because of these food subsidies and the past consumption by slaves, cornmeal became known as the food of the poor, the black and brown Puerto Ricans. Affluent Puerto Ricans, and those pretending to be, ceased consuming funche because of the stigma.
Of course, those who still consume funche prefer the boxed processed version, as opposed to growing, drying and grinding their own corn. Over the years wheat flours have become the primary flour of choice on the island, while corn flour is more often used for sorullitos (fried corn fritters stuffed with cheese), guanimes (boiled corn dumplings), funche ... and nostalgia.
---
Shrimp and Funche
Yields: 4 servings
1 cup polenta
1 - 13.5 ounce can of coconut milk*
4 tablespoons butter, divided
Kosher salt, to taste
1/4 cup Mexican chorizo
1/2 cup orange juice
2 tablespoons cup lemon juice
1 envelope Sazon
½ teaspoon sambal, such as Sambal Oelek
1/4 cup sofrito
1 pound peeled and deveined shrimp
For polenta, follow industry directions. Bring 3.5 cups water and 2 tablespoons of butter to a boil in a large sauce pan over medium-high heat. Whisk in the polenta. When the mixture begins to thicken slightly, reduce heat to low and add half can of coconut milk. Cover and cook for about 40 minutes, stirring every few minutes to prevent the polenta from sticking the pan. Remove from the heat and whisk in remaining coconut milk, plus salt to taste. Cover and keep warm until ready to serve.
Over medium-high heat and saute chorizo until the meat begins to brown and renders some fat, about 4 minutes. Add orange juice, lemon juice, sazon, sambal and sofrito. Add 1 cup water to the mixture to loosen. Season with salt and pepper. Set aside.
Using the same pan, add 2 tablespoons of butter. Add the shrimp to the same pan with butter, season with salt and pepper, and cook for 1 minute. Flip the shrimp and cook for another minute. The shrimp should be slightly pink. Add chorizo sauce into the pan with the shrimp. Finish with a squeeze of lemon.
Spoon the polenta into bowls. Spoon the shrimp and chorizo mixture on top. Serve immediately.
* If you're new here, you may not know how I feel about coconut milk. Check the ingredients listed on the can and make sure the first (and possibly only) ingredient is coconut milk. Most "coconut milk" cans list the ingredients as water and coconut extract.
You can still see all past stories on my portfolio where I store clips.
https://eatgordaeat.blogspot.com/