Discover more from illyanna Maisonet's Newsletter
illyanna Maisonet's newsletter contains: recipes, first person and reported articles, rantings, photos, history and foodways of California and Puerto Rico. Also, behind the scenes capturings of Diasporican: A Puerto Rican Cookbook. And Mami.
Puerto Rican Stories in the Time of Covid.
Instagram Live recipes, stories and photos of the Puerto Rican diaspora during a pandemic.
Hey everyone,
It's cherry season! I just wanted to start off with something light. No one is a stranger to current events. What you might be a stranger to is the fact that publications are not buying pitches. Most aren't buying pitches that don't have to do with covid and they definitely aren't buying niche pitches; like Puerto Rican food. They could give a shit less about Puerto Rican food in the time of covid. I have not sold a story in months.
This doesn't mean that local television station bobble heads still aren't stealing my work, people haven't stopped asking me to work for free and people haven't stopped participating in general douchery. Because of this, my newsletter will only be accessible to subscribers for a modest monthly or annual fee. Did I mention I was fired from like, ALL of my gigs? Paid subscription entries will begin on May 16, 2020.
I think the Puerto Rican diaspora's story is important to tell. I think Puerto Rico and California's food and agriculture story is still relevant and important to tell. I saw @aliciadkennedy  using her newsletter as a means to tell her and others stories and getting paid...I was like, "uhh yeah!" I'm moving over to Substack from Mailchimp. Something new I'll have to teach myself. 
---
Don't forget to contribute to my Saturday cooking demos! Venmo: @illya-maiso
---
In the meantime, don't forget to tune into my IG Live Saturdays at 12PM PST. THIS IS WHERE YOU WILL RECEIVE ALL MY MY IG LIVE RECIPES! LUCKY YOU!! I've been doing them for the last SEVEN Saturdays. People have been pitching in to my Venmo, that way I can purchase ingredients and people can suggest what I should make. This really allows me to share my California-Puerto Rican (CaliRican) story that I've been trying to convince publishers and publications to get on board with for years. Like this photo.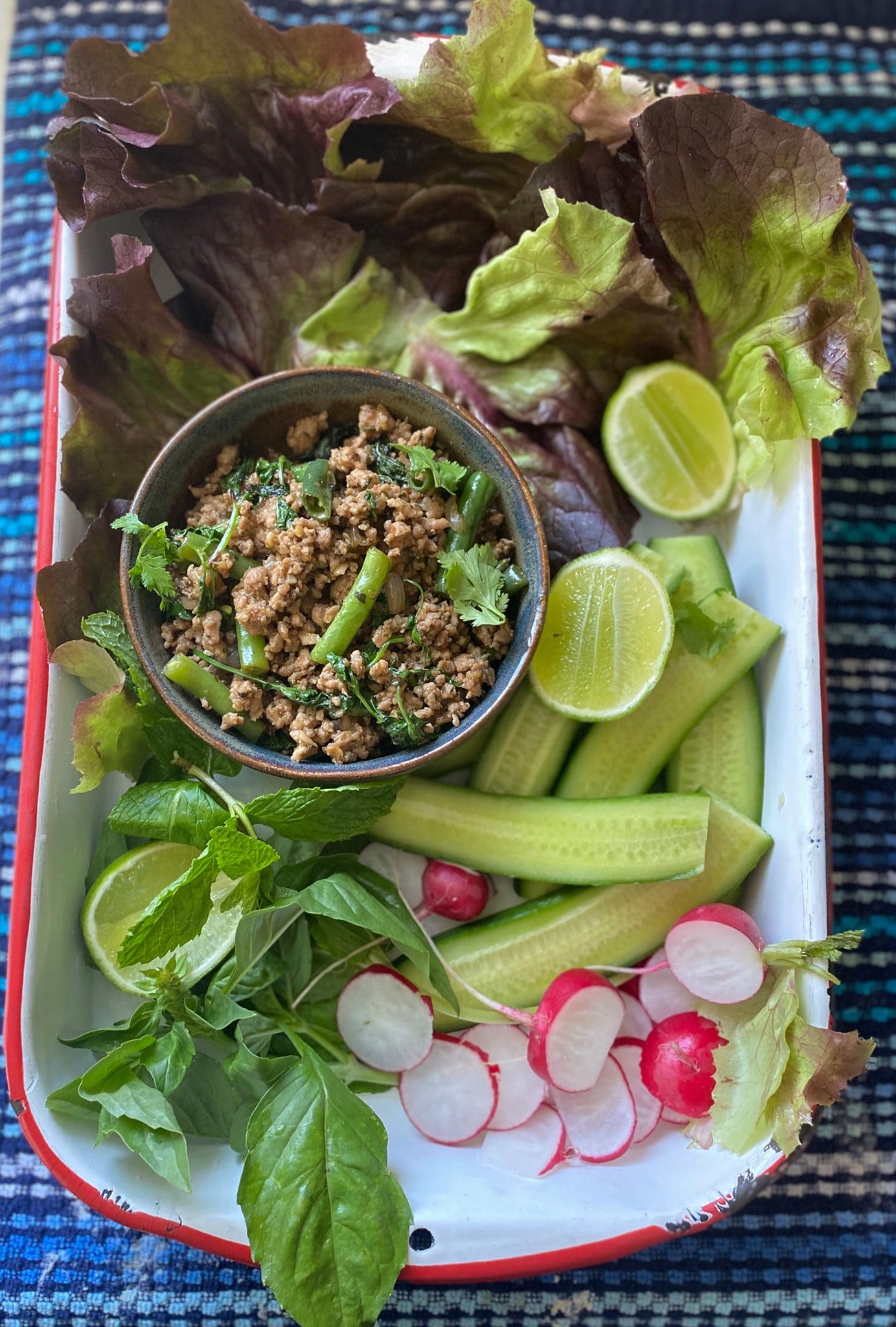 I combine sofrito with a lot of dishes I make at home, and this Laos Laab is of no difference. Laab is a sort of meat salad, that's the best way I can personally explain it. I learned this recipe while living with my friend Laty Khamsaly and her family after my mom kicked me out of the house when I was 16. Of course, it's a more complicated and nuanced story. But that's the gist of it. There were a lot of Hmong, Lao, Khmer and Mien people in my neighborhood at the time. Laty's sister, Phany, is an amazing cook!!! And so is her son @erikpandaman!! I've seen Phany add green beans to her laab and to her papaya salad. Some of the herbs in this dish are so similar to the things that go into sofrito, it seemed like a no-brainer that they two should meet; laab with sofrito.
All of the produce in the photo were purchased at a little urban farm in the middle of the neighborhood. There's a history to these urban farm stands, but i'll have to tell you about that another day.
Puerto Rican-Laab Recipe
1 pound ground pork
2 tablespoons, canola oil
1 large shallot, roughly sliced
5 cloves garlic, roughly chopped
2 Thai chilies, roughly chopped
1 cup of green beans
2 tablespoons toasted rice powder
1/4 cup sofrito
1/3 cup fish sauce, Squid brand
2 tablespoons granulated sugar
3 tablespoons padaek, Super/Saigon brand
1 limes
1 bunch cilantro
1 bunch basil
1 bunch mint
1 head of lettuce
1 bunch of radishes, thinly sliced
Cucumbers, thinly sliced
Over medium-heat, in a large pan, heat 2 tablespoons of canola oil
Saute ground pork for 2-3 minutes.
Add shallots and saute for 1 minute. Add garlic and Thai chilies, saute for 2 minutes.
Stir in green beans with pork, garlic, shallots and chilies and saute for 1 minute. Add toasted rice powder. Stir. Add sofrito. Cook for 1 minute. Add fish sauce. Cook for 1 minute. Add sugar. Cook for 1 minute. Add padaek.
Squeeze in one lime, reserving the other for serving.
Stir in half bunch of cilantro, mint and basil. Reserving the other half of the bunch for serving.
Turn off the heat. Serve with lettuce leaf with reserved herbs and lime, cucumbers and radishes.
---
Don't forget to contribute to my Saturday cooking demos! Venmo: @illya-maiso
You can still see all past stories on my portfolio where I store clips. https://eatgordaeat.blogspot.com/